News
Hi 2017/FiT 2017 (2017/10/4-6)
2017/09/13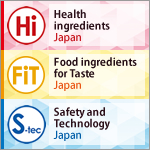 Hi2017/ Health Ingredients Japan 2017



FiT 2017/Food Ingredients for Taste Japan 2017

http://www.hijapan.info/eng/index.php 

We will exhibit at Hi 2017 (Health Ingredients Japan 2017) and FiT 2017 (Food Ingredients for Taste Japan 2017).

Date: 4th – 6th October, 2017 10:00 – 17:00

Place: Tokyo Big Sight, West Halls 1,3,4 and Atrium http://www.bigsight.jp/english/

Booth No: 1-387, 4-297

SCETI is offering various high value added food and health food ingredients from global sources. We mainly deal following products.

High Mineral/Vitamin/Amino Acid Yeast and Biogurt® Minerals/Vitamins

Chitosan, Chitin-Glucan, Highly bioavailable Curcumin,

Probiotics, Egg Albumen Protein, Plant Extracts/Oil,

Savory related products (HVP/HAP, Yeast extract Dry brewers' yeast),

Chilli/Herb purre, Tomato powder, Fermentation products for wine and beer, i.e.
Please contact about our products and sevice.